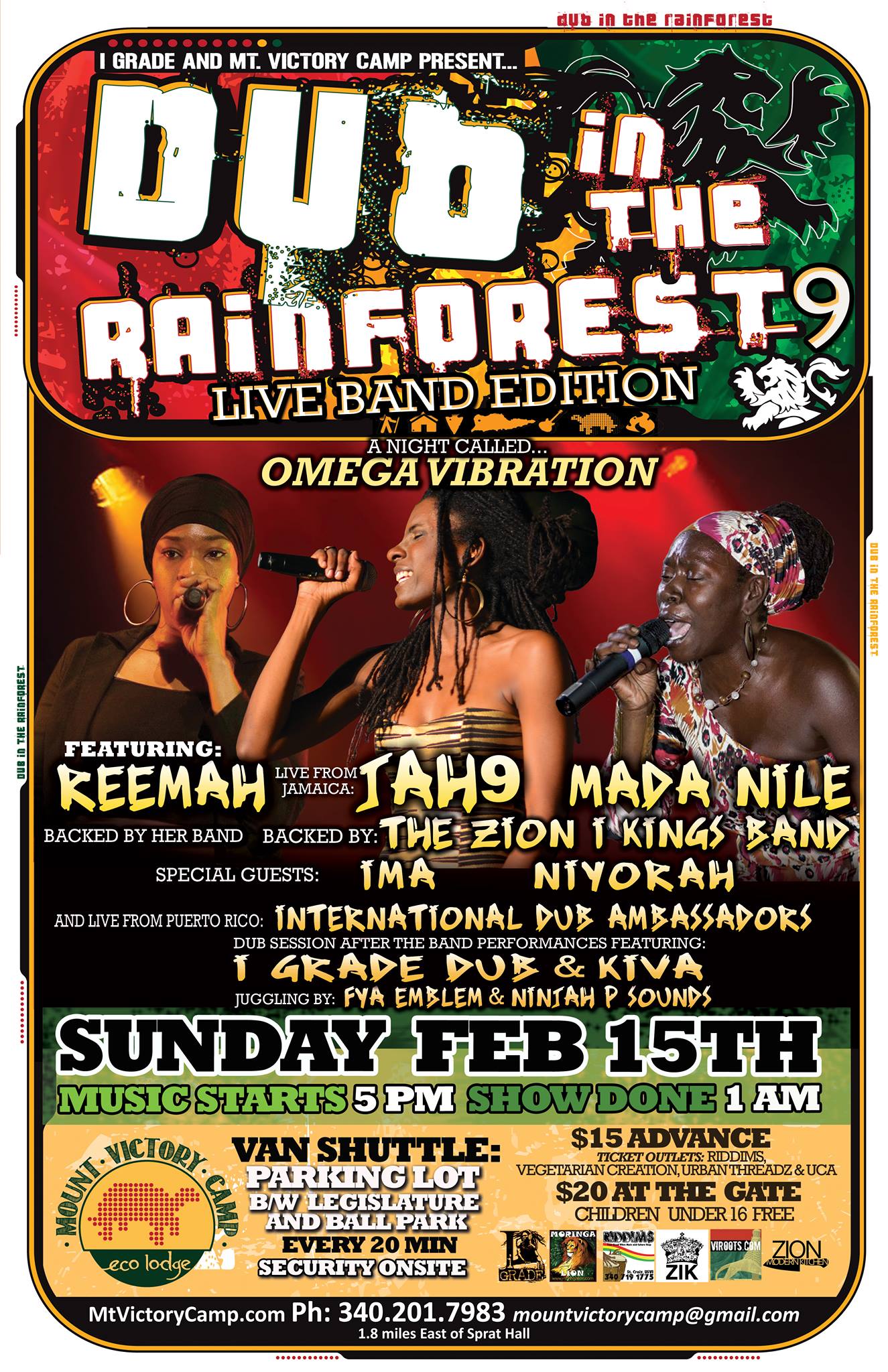 I Grade Records
 & 
Mount victory camp
 present... DUB IN THE RAINFOREST 9: LIVE BAND EDITION. This special OMEGA VIBRATION edition of the Dub series features 3 powerful Empresses - Reemah from St. Croix, 
Janine "Jah9" Cunningham
 from Jamaica and Mada Nile from St. Croix, all backed by the mighty 
Zion I Kings
 band. Special guests 
Niyorah
 & Ima. (Previously announced special guest 
Pressure Busspipe
 was recently asked to perform live in Ethiopia for the first time at the Africa Unite anniversary festivities!). Also, straight from Puerto Rico are the 
International Dub Ambassadors
, dropping some of the hardest instrumental live dub music you will ever hear.... fresh from their Puerto Rico tour with Niyorah. Dub se
ssions will begin after the band performances with I Grade DUB andDJ Kiva. Juggling by Ninjah P Sounds and Selecta Kulcha & Teflon of Fya Emblem. Stage lighting will be provided by KDM Productions. Food by Uca Rebel Dawtas Uca & Savor St. Croix. Mount Victory hospitality and vibes will be in full effect with the Jungle Bar serving cool drinks and specials all night. Holistic Activities and workshops for the family from 5 pm - 7 pm. Full Schedule:

Calabash and Arts/Crafts Workshops for Youths with Maria Aurora Stiles from 5pm
5:15 - Yoga Workshop with Courtney Kumari Sliga & Dar Shania 
"Yoga on Dub" presentation by Janine Cunningham
6:00 Ras Bobby Herbal Healing Presentation 
6:30 Dembaya ArtsDance workshop

LIVE BAND EDITION: 8 pm - 11 pm
International Dub Ambassadors 
Zion I Kings Band backing Ima, Mada Nile, & Jah9 
Reemah's Band

Dub Session: 11pm - 1am
I Grade Dub 
Ras Kiva
Special Omega Chant Out featuring: Ima, Omo Lianess and Tiara Mason

Dub the Rainforest 9 - Live Band Edition - Omega Vibration 

Van Shuttles running from the parking lot between the Legislature and the Ballpark every 20 minutes all night. Security onsite.