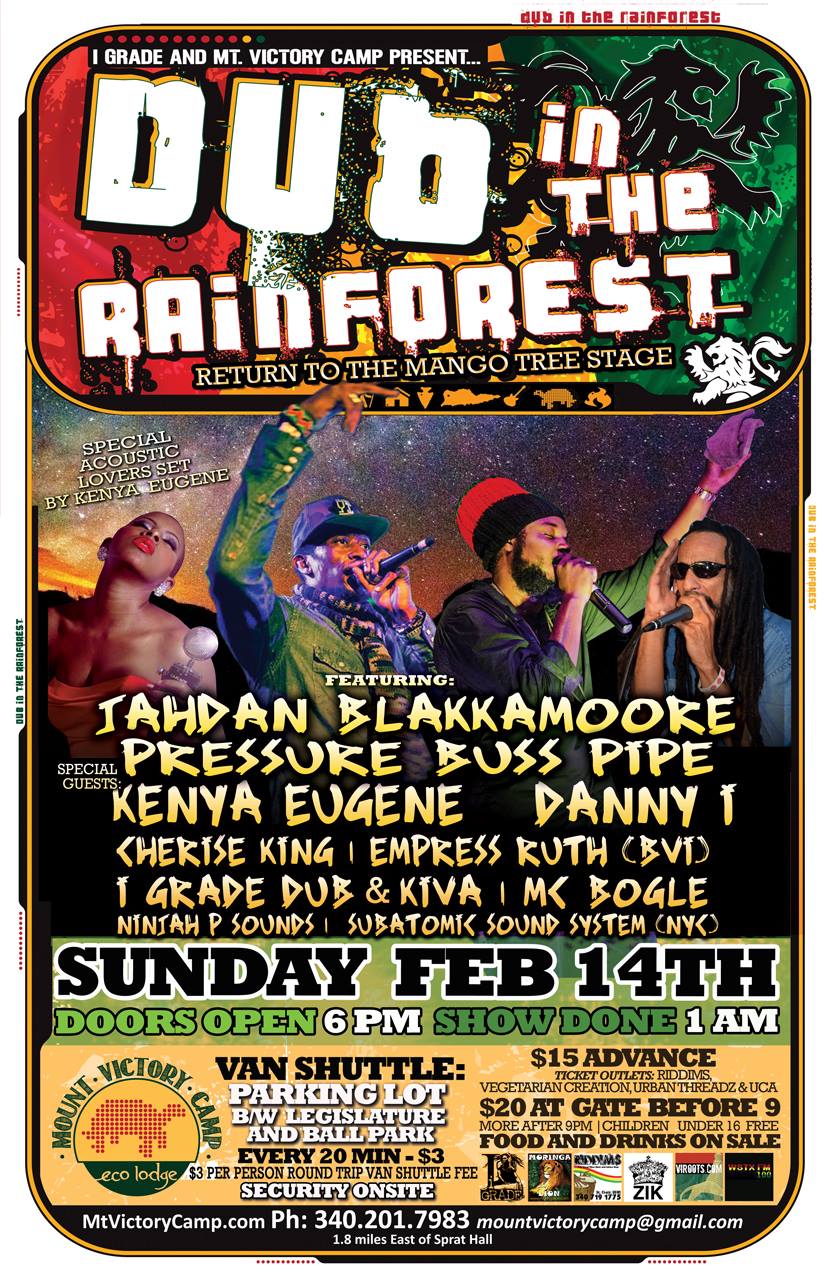 I Grade Promotions and Mount Victory Camp present... Dub in the Rainforest 11 on Sunday, February 14. Ag Fair weekend all roads lead to the Mount Victory Camp grounds in the Rainforest up Creque Dam Road for a special - Return to the Mango Tree Stage Edition.  
The live dub mixing and dub chant out session under the mango tree stage returns with I Grade DUB & Ras Kiva on their dub machines, and special dub guest Emch Subatomic (Backing sound for Lee Scratch Perry) from NYC. Early VI classic tune juggling by Ninjah P Sounds.  
Featured artist will be Jahdan Blakkamoore - flying in from Brooklyn, NYC and performing alongside I Grade DUB and Andrew Moon Bain. Special Guest Pressure Busspipe will perform new songs from his upcoming new Lovers Rock EP. Kenya Eugene will perform a mystical Acoustic Lovers Set with backing by Padraic Coursey, Laurent Tippy Alfred & Andrew Moon Bain. St. Croix's own Danny Gomez will perform as well, singing new songs from his upcoming album onI Grade Records. Cherise King and Empress_Ruth Singz will open up the singers segment. King Black Coral will be Master of Ceremonies.  
Tickets are $15 and will be on sale at Riddims, Uca Rebel Dawtas Uca Urban Threadz VI and Vegetarian Creation. $20 at the gate before 9pm, more after. Children under 16 FREE. Van Shuttle running from the parking lot between the legislature and the ball park every 15 min - $3 round trip fee. Food and Drinks on sale.